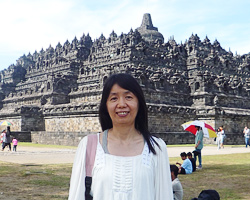 Huey-Jiun Wang
Professor
Education
Yokohama National University Dr.
Specialties
History of Chinese architecture.
Taiwan architecture.
Heritage preservation.
History of environment conservation and development.
Courses
Chinese architecture.
Taiwan architecture.
Architectural design.
Historical building research.
Recent research
Taiwan's architectural history research, especially during the Japanese occupation of the architectural features and changes.
Historical and cultural regions of the activation operation.
Preservation of monuments and historic buildings and restoration strategies.
Publication List:
Huey-Jiun Wang, Huei-Yuan Lee, (2008). "How government-funded projects have revitalized historic streetscapes – Two cases in Taiwan." Cities 25 (SSCI) p.197-206
Huey-Jiun Wang, Chien-Wei Chiou, Yi-Kai Juan, (2008). "Decision support model based on case-based reasoning approach for estimating the restoration budget of historical buildings". Expert Systems With Applications 35(4) (SCI,EI)(2006 impact factor: 0.957) p.1601-1610
Huey-jiun Wang, Tien-hao Huang, May, 2007. "Architectural Transformation of Taiwan's Buddhist Middle Schools Founded in the Japanese Colonial Period." Journal of Asian Architecture and Building Engineering,vol.6 no.1,(SCI, AHCI)p.1-8.
Related posts